The GS4-AC-T glass button is designed for installation based on a 60 mm diameter installation box and is dedicated for direct control of low power 230 V AC lighting circuits.
The external white spot backlight gently brightens when you move your hand closer to it in order to indicate the location of the sensors. Activation of the selected circuit is indicated by switching on a spot backlight in orange.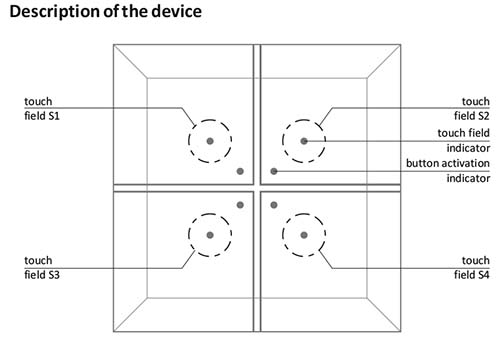 The front of the device is made of glass with external dimensions of 81├Ś81├Ś12 mm. On the front there are 4 touch fields (S1, S2, S3, S4), the central points of which are indicated by the touch field indicators glowing in warm white color when the hand is close to the button. Additionally, on the front panel there are 4 button activation indicators indicating the activation of the receiver switched on by pressing the button. On the inside there is a plastic frame connected to a 2M mounting frame.

Features of the device
* bistable relay function - one press switches on the output circuit, the other press switches off the output circuit;
* control of low power 230 V AC lighting circuits, such as energysaving fluorescent lamps or LEDs;
* output load capacity:
- 250 W total power (load sum for all four channels),
- 100 W for a single output;
* possibility to adjust the backlight brightness (separately for on and off mode) to individual preferences.