Product description
With adjustable actuation time 0,5├Ě5sec.
Three phase monitors serve to protect the three-phase electric motors supplied from three-phase mains, against phase collapse in at least one phase or against phase-to-phase voltage asymmetry, threatening to damage the motor.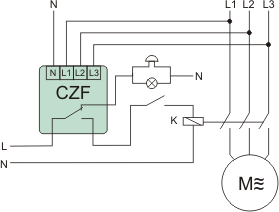 Functioning
Phase collapse in at least one phase or voltage unbalance between phases above set value causes switching-OFF the motor. The motor switching-OFF occurs with 4 sec delay, which prevents any accidental motor disconnecting at temporary voltage drop. The re-connection will occur automatically at voltage increase of 5V above activation voltage (i.e. of value of voltage hysteresis). At occurrence of these disturbances, it is not possible to set a motor in motion.