With time-blockade.
Voltage relays serves to voltage control in single or three phase mains and to protect receiver against the effects of voltage collapse or increase beyond set values.
Functioning
Lower voltage value (U1) and upper voltage value (U2) iare set by means of potentiometers. It is so-called eye of voltage, in limits of which can occur changes of phases voltages that do not cause activation of relay. Change of phase voltage on one of phases above or below set voltage tresholds will cause activation of relay. Reactivation follows automatically return of correct voltagevalue.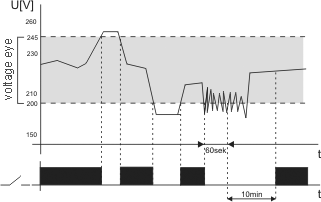 All types of CP can be supplied with a voltage up to 450V~. This ensures the effective protection of the receiver even in case of a voltage increase beyond allowable standards. Also, in case of supply polarity exchange or when "zero" is switched off (for three-phase types) the relay will not be destroyed ("burned").