PCS-533 is a programmable time relay that allows you to turn on, turn off and switch the relay in a function of time and in a function of control signals issued by the two inputs.
With NFC wireless communication.
The program is created by the user using a dedicated, free app for Android smartphone. Program is loaded into the relay wirelessly via the NFC wireless communication.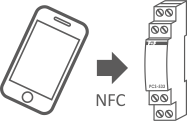 PCS Configurator app

Free app for phones and tablets working with Android operating system and equipped with a wireless communication module NFC.

* Preparing the program as a list of subsequent commands. Each command is symbolized by the icon. Pressing the tile with the command allows you to edit the details (for example time of the action, expected input signal etc.).
* Easily add, move or delete commands of the program (by dragging tiles).
* A set of templates (in the form of diagrams) - ready programs with PCS-516 and PCS-517 relay functions.
* Saving and reading programs to a file. The ability to share programs through e-mail, Bluetooth, network drives and soon.
* Automatic program backup - each relay has its own ID. The application maintains a full history of programs uploaded to the relay.
* Mass programming mode - the ability to upload a program to multiple relays (even without power supply connection).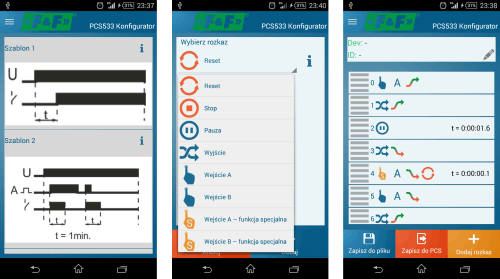 App available on Google Play!