Electronic bi-stable pulse relays enables the user to actuate lighting or other devices from various locations by means of control buttons in parallel connection.
Power supply 230 V AC. Maximum load 16 A. On TH-35 mm rail. With timing switch. Can be used with backlit buttons.
Functioning
The receiver is actuated by means of a current pulse triggered by pushing any bell push connected to the relay. The receiver is deactivated by another pulse or after a preset time. Long press, lasting a minimum of 2 seconds, press the button will attach the contact permanently in continuous lighting mode until another pulse has been sent to deactivate the relay.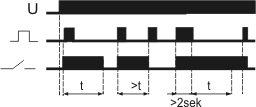 The relay does not ÔÇťmemorizeÔÇŁ the position of the relay contact, i.e. in case of supply voltage decay and the subsequent return of supply voltage, the relay contact will be set in the off position. Such a solution prevents the automatic actuation of the receivers controlled that might occur without proper supervision after a long-lasting decay of supply voltage.

Attention!
BIS-413 230V is compatible with bell pushes equipped with fluorescent lamps.