Two-position. Sensitivity settings from factory.
Fluid level control relays are devised to detect the presence of conductive liquids reaching the level of the sensor.
Allow states to maintain minimum and maximum control in the field of fluid specified by the user.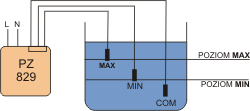 Functioning
After the liquid level decreases to MIN (i.e. electrodes MIN and COM spaced), the RMIN contact is switched to position 11-12, whereas the RMAX contact remains in position 8-9. On the other hand, when the MAX liquid level is reached (MAX and COM electrodes shorted), the relay's RMIN contact will be switched to position 11-10, whereas the RMAX into position 8-7.

How to connect the probe
The electrode probe is connected by means of a cable with wire diameter up to 1 mm and maximum length of 100 m.

Attention!
output 4-5-6 galvanic separated