One-position. Adjustable sensitivity.
Fluid level control relays are devised to detect the presence of conductive liquids reaching the level of the sensor.
Functioning
In dry conditions, the relay's contact remains in the 7-4 position. Once the sensor becomes flooded with liquid, the red LED indicator lights up, and the contact is shifted to the 7-8 position. After the level of the conductive liquid decreases (and the electrodes of the flooding sensor depart), the contact returns to position 7-4.

How to connect the probe
The design of the probe makes it possible to install the probe on a flat horizontal base, for example on the floor in a room where hydro-valves and flow pipes are installed or in a laundry room. Thanks to such a design of the probe, any failure or flooding of a room with a liquid can be quickly detected as well as electric circuits can be simultaneously switched off or the sound or light signalling system (alarm system) can be actuated. The probe cable can be extended to 100m.

A maximum of 10 probes can be connected in parallel connection or in series connection to 5-6 output:
* series connection - for a dependant system that controls the level of liquid in many points a simultaneous short-circuit of all sensors connected must occur in order to activate the relay.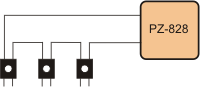 * parallel connection - for an alternative system that controls the level of liquid in many points - a short-circuit of at least one of the sensors connected must occur.
In case of a series connection, the sensitivity of the sensors is reduced (conductivity is reduced).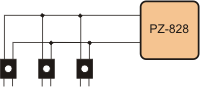 Attention!
Output 5-6 galvanic separated.