Three-position. Adjustable sensitivity.
PZ-831 fluid level control relays is devised to detect the presence of conductive liquids reaching the levels of the sensor.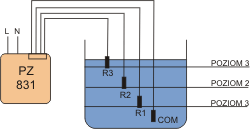 Functioning
In dry condition (all probes open), all the transformer's contacts are also open. If the base probe COM and the next level probe are closed due to a liquid presence, the contact for a given probe will close, e.g. once the first R1 level probe (the COM base probe and the R1 level probe closed) is submerged, the 11-12 contact will close. The same procedure applies to the R2 and R3 level probes. On the other hand, once the liquid level drops below the probe level (the COM probe and the level probe open), the contact for a given probe will open as well.

How to connect the probes
The electrode probe is connected by means of a cable with wire diameter up to 1 mm and maximum length of 100 m.

Attention!
Output 3-4-5-6 galvanic separated.