Three-phase, semi-indirect, two-way, four-quadrant electricity and network parameters measurement, compliant with the MID directive, M-Bus communication interface.
LE-03MB CT is a static (electronic) calibrated electricity meter with single-phase or three-phase alternating current in semi-indirect system. It is used for the indication and registration of the collected electricity and the parameters of the power supply network with the possibility of remote reading of indications via a wired M-Bus standard network. The meter cooperates with current transformers (CT) with 1A or 5A secondary current. The meter configuration takes place via the configuration menu available from the front panel and through the communication port in accordance with the M-Bus programming functions.

Functions
* 3-phase
* two-way (4-quadrant)
* 1A or 5A transformers
* current transmission 1 Ă· 9999
* adjustable measuring voltage 100 Ă· 500V
* voltage transmission 1 Ă· 9999
* gearbox programmable according to M-Bus
* kWh / kvar indication (downloaded / given)
* indication of network parameters
* compliance with LVD
* port / M-Bus protocol
* SO pulse output
* backlit, multifunctional LCD display
* password protection with password

Measured values
Active energy collected / delivered AE + / AE- [kWh]
Energia bierna pobrana / oddane RE + / RE- [kvarh]
Voltage voltages U1, U2, U3 [V]
Phase currents I1, I2, I3 [A]
The frequency F [Hz]
Active power P [W]
Reactive power Q [var]
Apparent power S [VA]
Power factor cosφ
harmonics THD
Demand for power and electricity
Programs for remote reading of electricity meters
LE-01M, LE-01MP, LE-01MQ, LE-03M, LE-03MP, LE-03M CT
MeternetPRO
The MeternetPRO application allows remote reading of states and indications of counters, multimeters, measuring transducers, expansion modules of input/output and other measuring devices communicating through Modbus RTU protocol. The exchange of data between devices and the application is executed through RS-485 or local area network (LAN). The application, along with the database is installed on a special MT-CPU-1 server, which operates in a local network. Software user interface is a web application (web site). Access to the application is executed through any web browser. In a LAN with a public IP address, you can configure the application and read the data over the Internet.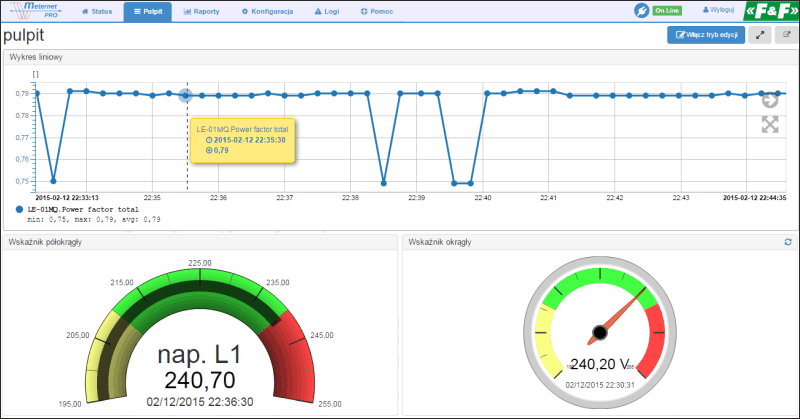 Subscription billing of electricity consumption module
Module of the subscription billing of the power consumption or other recorded incremental value, for example: water, heat, etc. It allows you to calculate the increases in the value in the designated billing periods (intervals). Cycles: monthly, weekly, daily, hourly. The module allows you to create multiple individual and parallel reports.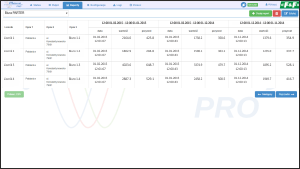 Meternet
Program allows remote reading via RS-485 network display up to 1000 indicators.
Exchange of data between the counters and the application is done via a standard RS485 <-> USB port or server on the LAN (Ethernet). For LAN connection to the router with a static IP address, you can read the data via the Internet.